Hello everyone! Today at Creative Inspriations, our challenge is Summertime!
Check it out here:
I've used a Stampavie stamp with my My Mind's Eye Gertie papers. To me, the primary colors say back to school, and when I think I back to school, I can't help but think of one-room school houses. These kids look like they've just finished their lunch from their lunch pails and are sharing their McGuffy's reader.
I hope you'll check our and try our challenge this time, particularly because we are sponsored by the wonderful Simon Says Stamp--they are giving us a $10 gift certificate as a prize!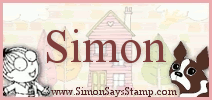 A couple more pix and I'll leave you to go check out the challenge and make your own back to school project! Thanks for looking and happy stampin'! Lisa :-)